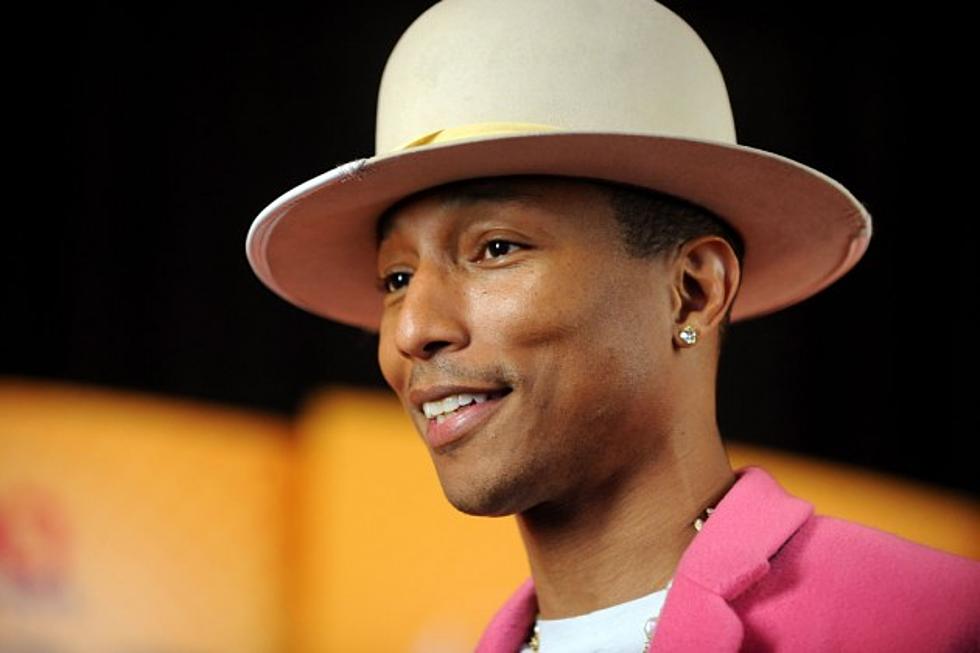 No Days Off: Pharrell Williams' Most Memorable Jobs
Brad Barket, Getty Images
In hip-hop, everyone has a side hustle, but Pharrell Williams is a true renaissance man. The producer and artist started his career back in 1992, penning a verse for Wreckx-N-Effect's 'Rump Shaker,' and has since evolved into a creative visionary beyond music.
Pharrell has his hands in literally everything, from producing hits as one-half of the Neptunes to launching a successful clothing empire with BBC to peddling liquor for the ladies.
With over two decades in the game, the 'Happy' singer has showed no signs of slowing down. Here are his best resume moments to date. Check out No Days Off: Pharrell Williams' Most Memorable Jobs.
1

You know a Neptunes track when you hear it. Pharrell and his production partner, Chad Hugo, created a multiplatinum sound in the late '90s that artists have coveted ever since. Notching hits for everyone from Jay Z ('Excuse Me Miss') to Snoop Dogg ('Beautiful'), the duo scored 24 top 10 hits during the late 1990s and 2000s. Not too shabby.

The Neptunes are considered one of hip-hop's greatest and most influential producers of all time, but Pharrell has done pretty well for himself as a solo producer too. From 1992's 'Rump Shaker' to 2012's 'Blurred Lines,' Pharrell proves that there's no artist or genre he can't produce a hit for.

2

'Happy' is still ringing in our ears, but Pharrell's solo career is more than the ubiquitous, feel-good track.

In 2003, the rapper-singer took the leap from producer to artist with the sexy duet 'Frontin' featuring Jay Z. Skateboard P was bit by the artistic bug and released his own album 'In My Mind' in 2006, which featured famous friends like Gwen Stefani, Nelly and Pusha T.

Pharrell upped the ante with the release of his 'G I R L' album last year. The effort peaked at No. 1 in 19 countries worldwide and 'Happy,' the song you can't escape from, has sold over six million copies in America alone.

3

Qrink up. Pharrell expanded his business empire by getting into the liquor game in 2011, with the launch of Qream flavored liqueurs. P wanted to attract grown and sexy ladies with the milky beverage. At the time of its release, the entertainer was excited for what he had to offer women.

"[The name is] inspired by the fact that it's a cream liqueur but also the 'Q' is for queen," he stated. "It's a thinner consistency than other cream liqueurs. If you drink it ,you don't feel chalky and you don't feel like you gained 10 pounds. You don't have to drink it and think to yourself, 'OK, in the morning I'm going to have to sacrifice and do another hour on the treadmill.' It's less calories than a glass of wine."

Unfortunately, women weren't qrazy for Qream. The drink was a dud and Pharrell ended up suing the brand for $5 million for what he deems was bad marketing.

4

The clothes don't make the man, but in Pharrell's case, they don't hurt. P has an effortless, eclectic sense of style that ranges from skater tees and trucker hats to high-fashion tailoring. Seriously, what other rapper can rock that gargantuan Vivienne Westwood hat to the Grammys and get props for it?

Pharrell's sartorial sense has been cosigned around the world. In 2005, 'Esquire' named him 'The World's Best-Dressed Man,' beating out Jay Z, Diddy and yes, even Kanye West.

Kevin Winter, Getty Images

Kevin Winter, Getty Images

5

Pharrell put his natural flair for style to work by founding the Billionaire Boys Club (BBC) and Ice Cream clothing lines in 2005. "The people who belong in this club are the people who are like-minded, who know that education is one of the greatest gifts to life, and learning things and continuing to discover and explore is one of the greatest experiences we can ever have as humans," he explained. "It doesn't mean you have to go on a safari to Africa or a journey to the moon, it just means that you have to have the willingness to do what makes you happy and to continue explore and enjoy the present."

After early cosigns from Jay Z, BBC has expanded to a flagship store in New York City's SoHo area and an official Ice Cream store in Tokyo, Japan.

Other brands have taken notice of his vision. Pharrell has served as a guest designer for household names including Gap, Timberland, Topshop and Moncler.

Bryan Bedder, Getty Images

Bryan Bedder, Getty Images

6

Rappers love Louis Vuitton, but how many of them are designing for the legendary brand? Pharrell has worked with the French luxury house on several collabos including a line of jewelry called Blason in 2008.

Blason was inspired by the Old World meeting the New. According to LV, the opulent line fused "the rhythm and energy of the new continent" with "the spirit of historic Europe." Sounds expensive.

7

Want to ride around New York City in style? Peddle over to Brooklyn Machine Works, the bike shop owned by Pharrell and BMX star Nigel Sylvester. "Born on the streets of New York City the brands heritage started in the early 80's with a bunch BMX kids from all over the city, hanging out at downtown's Washington Square Park as a meeting point of BMXer's Skaters and Messengers alike… this environment as an "ethos" has led to the brands various, original takes on many aspects of riding culture," the store's website reads.

8

After designing clothing and accessories, Pharrell expanded his creative eye to furniture. In 2008, P designed the foot-inspired Perspective Chair (with Domeau & Pérès) and the gear-based Tank Chair (with Galerie Emmanuel Perrotin) in 2009.

His funky designs aren't only for your living room. Soon, you will be able to buy an entire house designed by Pharrell. The multi-hyphenate is working with Pritzker Prize-winning architect Zaha Hadid on a prefab house.

9

Who wants rap money when you can have art money? Pharrell hooked up with famed contemporary artist Takashi Murakami for an outrageous piece of art called 'Simple Things' in 2008.

Along with celebrity jeweler Jacob the Jeweler, Pharrell and company designed the piece with glass fiber, steel, acrylic, wood, LED and seven objects made of gold (white, yellow and pink) set with rubies, sapphires, emeralds and diamonds.

"It's made with 26,000 diamonds and gems… I wanted people to see the value of simple things with some of the staples of American culture," P told Bloomberg at the time.

The piece reportedly sold for $2 million at Art Basel Miami in 2009.

10

When Pharrell needs to keep track of his ever-expanding empire, he does what any good media mogul would do: he launches a new company. Pharrell founded i Am Other in 2011, as a multimedia creative collective and record label that houses all of his music, fashion and business endeavors.

11

Pharrell has always been one to stay on top of trends. When social media and digital sharing took over production, he tried to capitalize with his company, UJAM. Cofounded with famed Hollywood composer Hans Zimmer in 2010, UJAM is "a cloud-based music creation and production platform."

Despite the big names attached, UJAM never really caught on and the site remains in beta.

12

Pharrell has gone Hollywood -- in a good way. Tinsel Town has tapped the talented producer to score a slew of movies including 'Despicable Me' and 'Man of Steel' and the 84th Annual Academy Awards.

Working closely with legendary composer Hans Zimmer, Pharrell was recently enlisted to score music for 'Amazing Spider-Man 2.' He also created three songs, along with his N.E.R.D. brethren, for 'The SpongeBob Movie: Sponge Out of Water.' The feel-good tune 'Squeeze Me' is an indication of Pharrell's versatility as a producer.

13

Board of Directors Member

After over 20 years in the business, Pharrell earned a seat on the Apollo's Board of Directors in 2014. "Pharrell represents the DNA of the Apollo board," the Apollo Theater president said in a statement. "If the Apollo were an artist it would be Pharrell."

Pharrell joins 36 other specially-selected members to sit on the legendary theatre's board.

Bryan Bedder, Getty Images

Bryan Bedder, Getty Images

14

With his expertise and Fountain of Youth good looks, it was only a matter of time before Skateboard P delved into television.

He provided commentary as a judge on Rihanna's 'Styled to Rock' reality show, but it's been his stint as a coach on NBC's 'The Voice' that has put P center stage as a TV star.

Despite primetime fame, Pharrell is keeping it all in perspective, seeing this as just another music project.  "I consider this another great musical endeavor," he tells Billboard. "I'm still in the studio with Ed Sheeran. I'm still going in with Gwen. This is a studio session to me."

15

Laying claim to success in the entertainment industry, years of hit songs under his belt, multiple companies, creative projects and too many accolades to mention, it's only right that Pharrell Williams share his life story for generations to come.

In 2012, P penned the book 'Places and Spaces I've Been.' The memoir includes contributions from several of the collaborators Pharrell has worked with over his 20-year career -- BBC's Nigo, Jay Z and even famed astronaut Buzz Aldrin are featured.

In typical Pharrell form, the book itself is painstakingly detailed. Originally published in three different covers, a year later, he reprinted it in three more colors, thus making his life story a true collector's item.

'Places and Spaces I've Been'

'Places and Spaces I've Been'