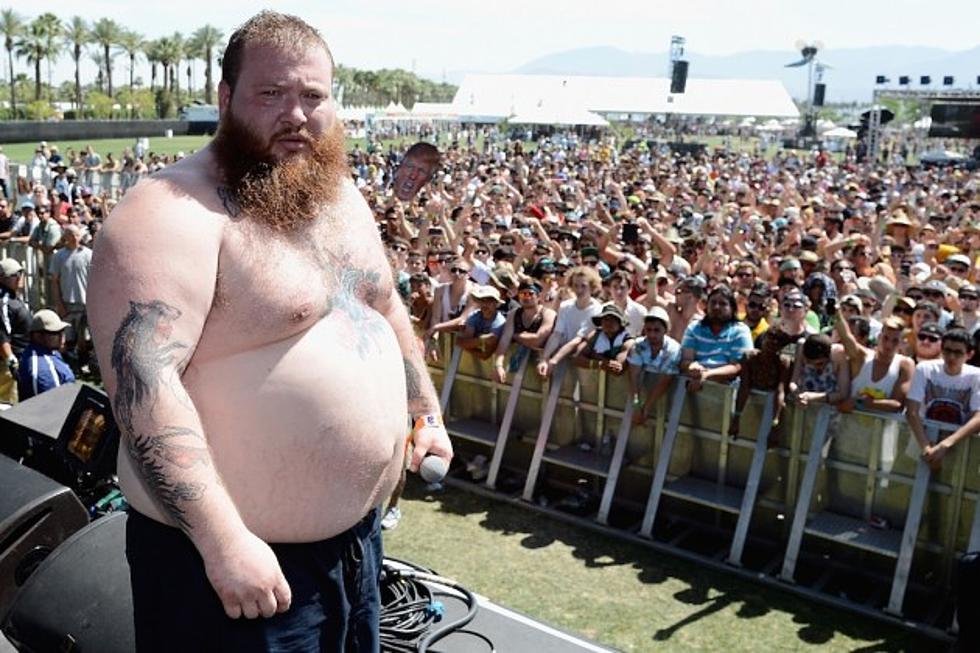 Action Bronson and the Value of Branding in the Digital Age
Frazer Harrison, Getty Images
Action Bronson recently finished hosting the first season of his online food show, F---, That's Delicious, in which he travels the world rapping, trying new foods, cooking, talking to interesting everyday people, playing basketball, hanging with celebrities like Mike Ditka and Riff Raff -- and generally doing whatever we wants.
Action was a respected gourmet chef in New York before he decided to pursue rapping, so the online space that combines his main interests with his infectious personality made all kinds of sense and enjoys a respectively sized audience, the most-watched episodes nearing a million views on YouTube.
In the age of unhampered access to music, establishing yourself as a likable personality is nearly as important as coming out of the studio with great songs.
This is all important because Action is a fine example of a relevant point: In the age of unhampered access to almost all music at almost all times, establishing yourself as a likable personality is nearly as important as coming out of the studio with high quality audio and then combining those things on stage.
Action Bronson is a gigantic personality and he is capable of getting by on fact alone. Even if you're not into his music, Action Bronson as a brand is spectacularly appealing: He's a big, fluffy sweetheart who isn't opposed to the occasional smoke and can also rap his ass off. Live, he's an animal: Just in the past month, he threw a fan off a stage, passed out poutine at South by Southwest and took a mid-song bathroom break while continuing to rap from inside a porta-potty.
Action is so engaging that he's interesting while urinating.
The marriage of these aspects is why Action's major label debut, Mr. Wonderful, was one of the most anticipated albums of March, a month that also saw new releases from Kendrick Lamar, Earl Sweatshirt, Death Grips, Sufjan Stevens, Tobias Jesso Jr., Death Cab for Cutie, Laura Marling, Madonna, Modest Mouse ... just about everybody.
Mr. Wonderful is a perfect reflection of Action himself: He doesn't let his hip-hop get in the way of his cooking, and in the same way, the record doesn't let rapping get in the way of music, an offense far too many rappers are guilty of. Modern hip-hop is arguably the most instrumentally adventurous genre in popular music today, but unlike Action, so many rappers are too hubristic and pre-occupied with their own voices to let the instrumentals show their muscle.
What's more impressive than the variety within Mr. Wonderful is how the tracks influenced by disparate sources cohere with each other. "Actin' Crazy" and "Easy Rider" are sons of psychedelia, "City Boy Blues" is cut from the cloth of Carlos Santana's Mexican blues rock and "Terry" and "The Rising" borrow heavily from old-school R&B. There's so much going on but it all fits together, comforting like a mosaic quilt made by your grandmother -- with fewer floral graphics but as much love in every stitch.
Vocals are at the forefront more often than not, but the complexity, variety and listenability of the backing tracks give them their own legs to stand on. This all goes not to detract from Action's abilities as a rapper, because his flow and lyricism are both on point, spitting rhymes that alternate from meaningful and seemingly devoid of a meaning entirely, often in the same verse.
"Uh, all I do is eat oysters / And speak six languages in three voices," he raps on "Actin' Crazy." He raps about food, although the latter verse likely isn't true; it's lyrical acrobatics because, well,  it's fun.
"You ain't gotta worry 'bout a thing, I got it covered / Why you think I'm out here actin' crazy," he continues in the song's hook. He's acting crazy because when people have so many musical options, having a compelling brand is important, so Action putting his wild, lovable personality on display is vital, and he knows that.
Mr. Wonderful also has an ideal amount of guest spots, enough to spice it up, not too much where the spices overwhelm and you forget what you're eating. Big Body Bes -- who F---, That's Delicious viewers will recognize -- and Chauncy Sherod lend a hand, but it's Chance the Rapper who brings it hardest in "Baby Blue," with the most innocently maniacal verse of all time, in which he lists what he hopes happens to a girl who has wronged him.
"I hope there's always snow in your driveway / I hope you never get off Fridays / And you work at a Friday's that's always busy on Fridays," he raps.
It's all good fun and goes to show that it's personality that'll make Action Bronson stand above the pack. Building a mini media empire is a good move, because Action could get by on any part of it alone. Branding is important and it has gotten Action Bronson to where he's at, but the depth of the music is what resonates most, providing a hook to his addicting personality.
That's why he's out here actin' crazy.