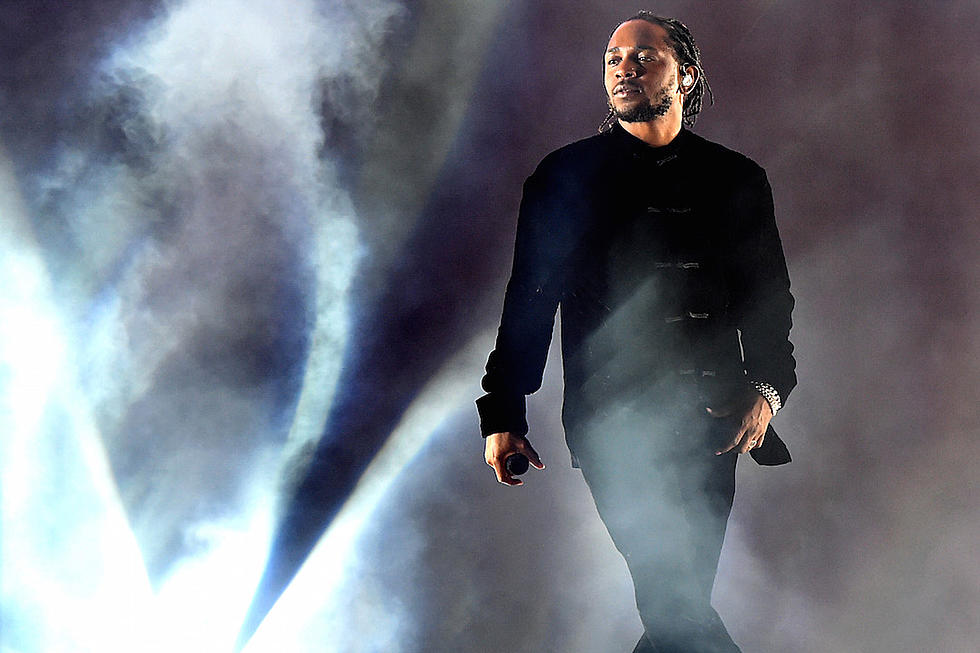 Kendrick Lamar Isn't Hip-Hop's Savior — Pray That He Remembers That
Kevin Winter, Getty Images
"Last LP, I tried to lift the Black artists. But there's a difference between Black artists and wack artists..."
Spoiler alert: Hip-hop doesn't need saving.
Many Gen X rap fans who still see the genre as wandering through a creatively bankrupt nadir don't believe that. If you constantly bemoan the rise of Young Thug and "mumble rap," you won't agree with the idea that the genre is broadly diverse, booming with a bevy of inspired creativity that sometimes rebuffs tradition but remains guided by its own muse. There has been someone screaming about the fate of rap's soul ever since the mainstream came a-callin' in the mid-1980s--we're always wondering "where hip-hop is headed." But even if the music stops speaking to you, chances are it's still speaking to someone. 
One uber-popular contemporary rapper who evokes so many sighs of yesteryear from elder rap heads is Kendrick Lamar. K. Dot's 2017 is shaping up to be a banner year for a guy who has been celebrated since he first started getting serious attention a decade ago as an upstart out of Compton on a relatively obscure label. He released his fourth album Damn in mid-April to rave reviews and commercial success; further cementing his status as millennial hip-hop's thoughtful rapper du jour. The album has sparked conversation about Kendrick, his fanbase and what "consciousness" in hip-hop means in an era when the genre's penchant for misogyny and homophobia is no longer downplayed as par for the course.
A spirituality-informed look at his life's journey, Kendrick's personal weaknesses are at the forefront on Damn, an album that looks inward even more often than 2015's To Pimp A Butterfly. Back then, K. Dot was speaking to the Black experience in the wake of Ferguson and Freddie Gray--offering a balm in the form of his exuberant hit "Alright," and a pseudo-rallying cry on the rollicking "King Kunta." But on Damn, Lamar is staring at himself and questioning what he sees--and he's more than willing to lay his personal contradictions bare.
Damn has an overarching sense of conflict; conflict over Kendrick's spirit and conflict over Kendrick's heightened fame. As should be expected, Kendrick Lamar's ascension has come with increased scrutiny and expectations. He's drawn praise and criticism--not altogether unusual for an artist deemed to be culturally significant. Whether or not one feels his art is deserving of the accolades, it should be clear that we don't have to hold artists above reproach just because we are moved by their art. When on "Humble" Kendrick rapped "I'm so fuckin' sick and tired of the Photoshop / Show me somethin' natural like afro on Richard Pryor," and used parallel images in the video that played into all-too-easy ideas about "IG models" vs "naturalistas," the critique that followed was dismissed by many of his fans as hypersensitivity on the part of "Twitter feminists." But if we celebrate the evolution of art, then we should encourage the evolution of artists; and how does an artist--a person--evolve if they can't ever be criticized? It's not always outrage that leads us to suggest a public figure think a little more about the ideas they present.
And so much of Kendrick Lamar's art is defined by his belief that he can be better.
A common thread in Kendrick's music is his uncertainty. This isn't Chuck D making declarations about the state of America and the Black community without a hint of any internal confusion or conflict. This isn't Ice Cube funneling every truism through an unyielding sense of rage and peppering his rhetoric with unapologetic hatefulness. And this isn't 2Pac, as invested in heightening his own legend as hip-hop's most formidable antagonist as he is in examining the pain that birthed his confrontational personality. Kendrick walks in the steps of those hip-hop legends, but he has an insecurity not uncommon in most post-Kanye rap superstars. And he's better off for it.
Kendrick is often compared to the charismatic but famously-troubled 2Pac. All Eyez On Me, (the highly-anticipated biopic about Shakur's life and career), premieres in June and hip-hop fans recognized the 20th anniversary of 2Pac's death last September. 2Pac's legend has only grown over the two decades since he was gunned down in Las Vegas, largely because of Pac's commitment to presenting himself as a larger-than-life martyr before he met his untimely end. One listen to 1996s classic Don Killuminati: The 7-Day Theory, 2Pac's final album, and it's obvious that no one believed in the myth of 2Pac more than 2Pac himself.
But there is little self-mythologizing in Kendrick's music. On "DUCKWORTH.," Damn's closer, when he lays out the 80s backstory detailing how TDE head Anthony "Top Dawg" Tiffith could've killed Kendrick's own father, it doesn't sound like he's invested in folklore--he seems to be genuinely and profoundly affected by how we all ride on a line of chance, interconnected in ways we typically don't ever recognize. Kendrick's music resonates, not because he raps from the figurative mountaintop, but because he never sounds unreachable.
In a time when Beyoncé is re-shaping how superstardom and topical art converge, and as Kanye West continually trades in spectacle over substantive art, Kendrick has elbowed his way into pop's upper echelon to become hip-hop's most compelling rapper. J. Cole pushes himself creatively but even his most acclaimed releases never seem to command the culture's attention for very long. Drake dominates radio but has never delivered standard-setting albums nor has he held the kind of socio-political sway that pushes pop art beyond "popular" and towards "important." There hasn't been a rock artist that truly mattered in a generation. Kendrick Lamar has a singular place in music right now.
"I feel like a chip on my shoulders. I feel like I'm losing my focus..."
We can over-romanticize troubled young men who know how to express their troubles in compelling ways. Oftentimes, their pain comes connected to toxic and oppressive ideas that can be damaging to those around them or their base; that can't just be ignored for the sake of lionizing the latest laureate. Ice Cube and 2Pac were exalted for their 1990s topicality even as they consistently denigrated and vilified Black women. The fact that Marvin Gaye created What's Going On tends to obscure the fact that he followed it with Let's Get It On, a classic album partly inspired by his extramarital affair with a 17-year old Janis Hunter.  The intrinsic value in artistic expression shouldn't diminish the flaws in both the art and the artist.
And Damn almost feels an ode to Kendrick's flaws. The album's centerpiece is the push-and-pull in the on-the-nose sequencing of "PRIDE." and "HUMBLE." followed by "LUST." and "LOVE." The songs are intended to highlight the contradictory themes at the album's core--which has really informed Kendrick's entire career so far. But he puts a fine point on it with this stretch, and the seemingly opposite ideas presented by the titles are blurred further in the way Lamar tackles the subject matter: "HUMBLE.," for example, is actually one of the cockiest moments on the album, where "PRIDE." is more subdued and pensive.
No one needs a "Voice of a Generation." Everyone who ever held that unofficial position of pop culture import--from Bob Dylan to Kurt Cobain--was too damaged and/or self-absorbed to ever truly lead much of anything beyond a band. And guys like John Lennon and Tupac Shakur's greatest respective artistic failings had something to do with them becoming seduced by their own legend; from the indignant sanctimony of Lennon's "Gimme Some Truth" or "Working Class Hero," to 2Pac's most self-felating Death Row recordings. Kendrick Lamar's art is gripping largely because he knows he doesn't have the answers. In 2017, hip-hop fans don't seem to want someone to lecture them--and that position seems to confuse and frustrate hip-hop elders who are still invested in the iconography of yesteryear. The truth in K. Dot's music lies in the questions and the cracks. He's angry and destructive in as much as he's thoughtful. He embodies so many Black men of his generation— he's passionate, he's informed, he gets it wrong, he has room to grow.
"The shock value of my success put bolts in me. All this money--is God playin' a joke on me?"
As he raps about being afraid that his "humbleness is gone" on "FEAR.," he comes face-to-face with the reality of being Kendrick Lamar in 2017. He's the most lauded artist in hip-hop; he commands a level of respect that borders on adulation. And his ideas are often just as questionable as his less-celebrated contemporaries. But his art always feels more elevated, more inspired and richer than what any other mainstream rap star can deliver. And scrutiny comes hand-in-hand with that kind of reverence. Recognizing that art will sometimes be delivered via problematic artists isn't novel, but we're exposed to more individual opinions about the art and artist than at any other time in our collective history.
But that art is often still compelling; for those who find some resonance in Kendrick Lamar's words and music, they've decided that what speaks to them is valuable. That's fairly obvious--what's trickier is deciding if there is some ideological standard by which all art can be judged. More often than not, we're deciding what we can and cannot live with in our art/entertainment of choice. How far is too far? Is ignorance the same as malice? Is the journey towards enlightenment as significant as finally arriving at a specific philosophical place? Kendrick's fear of losing himself is rooted in absorbing the praise but there's also an undercurrent of insecurity about his positioning as a cultural voice. But it's quite disingenuous for anyone to believe an artist who "didn't ask to be" that voice has no responsibility to themselves to take their status seriously. It sounds like Kendrick does take this seriously--but he doesn't do it comfortably.
Maybe there is no universal answer. I have my own proverbial deal-breakers as it pertains to music and any other art I consume; but I don't know if they can be applied indiscriminately. I know that I am always enthralled by Kendrick Lamar's music; his struggles with spirituality and his own hubris remind me so much of my younger self. Criticisms have been warranted; he has his moments of misguided finger-wagging (as on 2015s "The Blacker the Berry"), and he's wallowed in misogyny and latent homophobia (such as on "Tammi's Song (Her Evils)" from Section.80.) But there's a sense that Kendrick is ever-questioning and wants to push himself, that he understands that he has a lot to work on regarding his own outlook. This isn't the self-assured rhetoric of your favorite 90s rap firebrand; this is a guy who never sounds like he's sure he's getting it right.
"I can't fake humble just 'cuz yo' ass is insecure..."
But what happens when that conflicted young man starts to become bolstered by his ideology? What happens when his uncertainty begins to fade? Kendrick's Damn is great because of his questioning of himself, but on "FEAR." he includes a snippet of a conversation with his cousin Carl Duckworth that references the Old Testament:
"The children of Israel, He's gonna punish us for our iniquities, for our disobedience, because we chose to follow other gods that aren't His son, so the Lord, thy God, chasten thee. So, just like you chasten your own son, He's gonna chastise you because He loves you. So that's why we get chastised, that's why we're in the position we're in. Until we come back to these laws, statutes, and commandments, and do what the Lord said, these curses are gonna be upon us. We're gonna be at a lower state in this life that we live here in today, in the United States of America."
Kendrick addressed the spiritual themes on Damn in an open letter, after a DJ Booth essay examined his approach to religion in his music as compared to Chicago's Chance the Rapper.
"I feel it's my calling to share the joy of God, but with exclamation, more so, the FEAR OF GOD," Kendrick wrote. "The balance. Knowing the power in what he can build, and also what he can destroy. At any giving moment."
Kendrick's beliefs inform his art and as he becomes more assured, his music could become defined by dogma. When notables believe they are the mouthpiece for God's wrath, it can start them down a slippery slope that can end with them alienating their audience. But artists ranging from Prince to Marvin Gaye found greater resonance in their art by not running from faith. Here's hoping that Kendrick, in seeking to share the joy and fear of God, maintains some uncertainty.
Music has had enough messiahs.
25 Striking Hip-Hop Album Covers That Will Make You Appreciate a Rapper's Creative Side