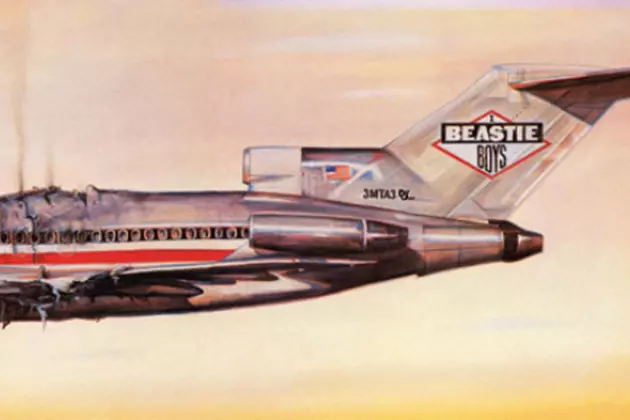 Beastie Boys to Issue 30th Anniversary Vinyl Edition of 'Licensed to Ill'
Def Jam Recordings
Licensed to Ill, the groundbreaking full-length debut by the Beastie Boys, will be reissued on vinyl in the fall. They are doing this in honor of the record turning 30 this year.
The group made the announcement on its Facebook page "We're coming up on the 30th anniversary of Licensed to Ill," they wrote, "and we've got a special reissue cut from the original production masters and pressed on 180-gram heavyweight vinyl coming out October 14. You can pre-order it starting today."
A press release they issued features a quote from Chuck D of Public Enemy and Prophets of Rage extolling its virtues. "The breakthrough of Licensed to Ill in 1986 paved the road legitimizing rap to its USA masses and set the barometer worldwide on the genre album format," he wrote. "This record also expanded hip-hop diversity allowing Public Enemy's [It Takes a Nation of Millions to Hold Us Back] to be its antithesis."
Produced by Rick Rubin and released on Nov. 15, 1986, Licensed to Ill has since sold more than 10 million copies in the U.S. It became the first hip-hop record to top the Billboard albums chart and spawned a Top 10 single in "(You Gotta) Fight for Your Right (To Party!)."
The Beastie Boys 'Licensed to Ill' Track Listing
1. "Rhymin & Stealin'"
2. "The New Style"
3. "She's Crafty"
4. "Posse in Effect"
5. "Slow Ride"
6. "Girls"
7. "(You Gotta) Fight for Your Right (To Party)"
8. "No Sleep till Brooklyn"
9. "Paul Revere"
10. "Hold It Now, Hit It"
11. "Brass Monkey"
12. "Slow and Low"
13. "Time to Get Ill"
Every Beastie Boys Album Ranked