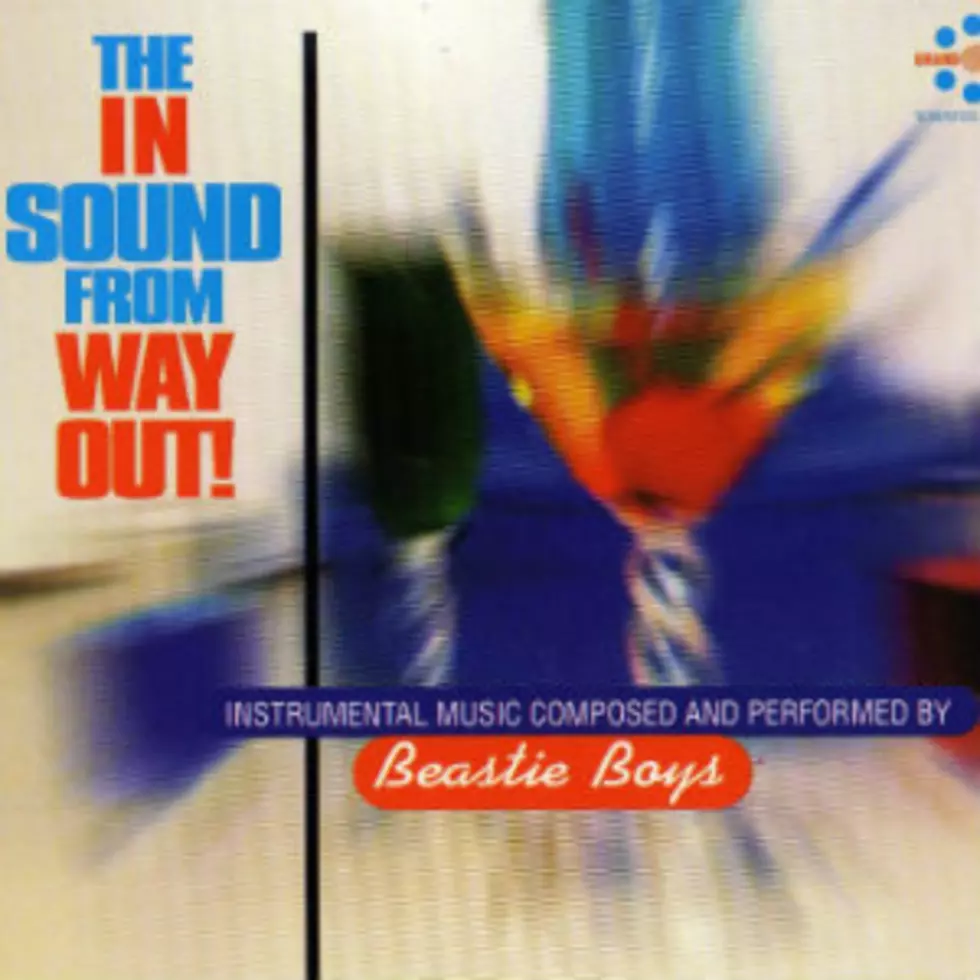 20 Years Ago: Beastie Boys Release the All-Instrumental 'In Sound From Way Out'
Capitol
In the Grand Hall of Musical Curiosities, The In Sound From Way Out would be a prime exhibit; it's a great Beastie Boys album completely devoid of vocals. Of course, the Beasties had made no secret of either their instrumental prowess or their proclivity for funky jams on their previous releases. Both 1992's Check Your Head and 1994's Ill Communication boasted a few funk instrumentals, where Ad-Rock, Mike D and MCA came off like some alternate-universe collision between the Meters and Miles Davis's early-'70s jazz-funk crew. But in 1996, they put all those instrumental tunes together in one place and proudly presented themselves to the world as a band of worthy musos.
At the time, the Beasties were on top of the world. They'd gone to No. 1 on the Billboard 200 for the first time with Ill Communication, and they were pretty much at the peak of their powers. But it had been a couple of years since that album, and they hadn't even started working on what would become the world-beating Hello Nasty. Fans were hungry for a little something from the band, but perhaps unsurprisingly, the trio decided to tide them over with something almost nobody was expecting.
But for those who knew the crate-digger side of the band's musical personality (and their penchant for sampling everybody from jazz organist Jimmy Smith and little-known jazz flute genius Jeremy Steig to R&B cult hero Eugene McDaniels), an all-instrumental album fit right in line with the Beasties' aesthetic. Even the album cover and title reflect the trio's record-geek tendencies. Both are inspired by a 1966 Moog pop novelty album of the same name by early electronic musicians Perrey & Kingsley.
Released on April 2, 1996, The In Sound From Way Out contains not only the previously released instrumentals from Check Your Head and Ill Communication, but also a few tracks from those albums with the vocals removed and a couple of instrumental B-sides. Ad-Rock's guitar, MCA's bass and Mike D's drums came together for a groove-heavy 40 minutes of funky, sweaty, soulful tracks that underscored their ability to work together as a band. Of course, the fourth Beastie, keyboardist Money Mark (who has aided the trio at crucial points throughout their career) is probably more important here than on any other Beasties album. The '70s Blaxploitation soundtrack vibe so vital to these tracks would not be complete without his vibrato-laden organ lines and dirty, down-low clavinet riffs, which are frequently featured right at the forefront of the arrangements.
"Groove Holmes," named for the great soul-jazz organist, makes the intention clear straight out of the gate, with its juicy organ riffs, chattering rhythm guitar, and deep funk groove. "Sabrosa" spices things up further, throwing some percolating Latin percussion into the mix while verging on Shaft soundtrack territory with its wah-wah guitar licks. "Namaste" slows the funk down to a simmer but never quite lets the heat die down, establishing a dreamy feel that's a little like the Meters floating in outer space. With its frenetic bass line and funky-drummer beats, "Pow" comes on like a lost James Brown backing track before slowing down two-thirds of the way through.
By the time the band gets around to "Eugene's Lament," though, things are starting to turn trippy. Eugene Gore, an old buddy of the Beasties, dominates the track with some wild, often avant-garde violin playing, taking the tune to a dark, exotic place, with percussionist Eric Bobo (son of Latin jazz legend Willie Bobo) pushing things along. That track segues surprisingly seamlessly into "Bobo on the Corner," on which the percussionist takes the spotlight atop a series of textured drones; the title and the vibe are both almost certainly an homage to Miles Davis's 1972 avant-jazz-funk album On the Corner.
"Shambala" brings things to an even more exotic pass, with the band's wiry funk threaded through what sounds like a massive group of monks chanting in unison. When we finally reach the end of the line a few tracks later on "Drinkin' Wine," it feels like the Beasties and early-'70s Miles are partying in Strawberry Fields under the influence of something much stronger than the fruit of the vine, as backwards tapes offer up a weird, funhouse-mirror funk for another dimension, leaving things off on a mischievously odd note.
While it didn't make much of a mark on the charts or come anywhere within spitting distance of the sales the band's "real" albums racked up, The In Sound From Way Out delivered a powerful message that reverberates even more now. Simply stated, even though it was ultimately only a compilation, the album served notice that for all their outrageousness and showmanship, Adam Yauch, Mike Diamond and Adam Horovitz were always true musicians at their core.
Worst to First: Every Beastie Boys Album Ranked