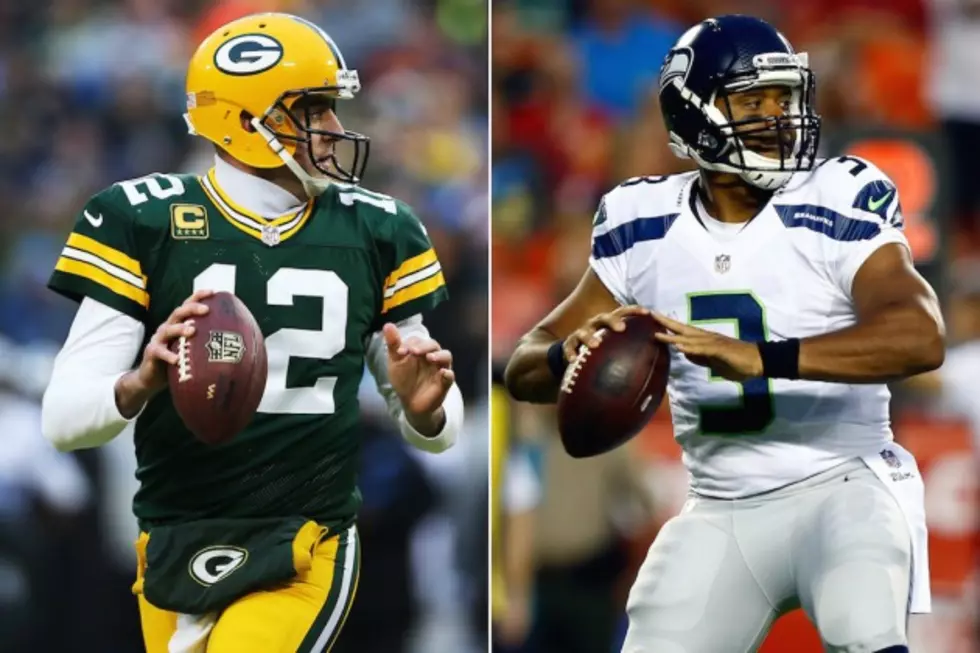 2015 NFL Preview: What You Need to Know About the NFC
Getty Images
NFC teams won't get their 2015 season started until Sunday, but this year will be a race to dethrone the two-time-defending conference champs, the Seattle Seahawks.
Key NFC Story Lines
Will the Seahawks Fly High (Again)? With Pro Bowl tight end Jimmy Graham joining quarterback Russell Wilson and running back Marshawn Lynch on offense (when he's not hawking Skittles) — and most of the Legion of Boom secondary still intact — the Seahawks could set an NFC record by making it to their third consecutive Super Bowl. They could also turn into a points-starved mess with a makeshift offensive line and suddenly aging talent. Pete Carroll's manic coach-'em-up style likely won't let that happen.
The Eagles' Exciting Offense: Philadelphia head coach Chip Kelly kept Eagles fans scratching their heads this offseason by releasing, trading or not signing Pro Bowl talent like running back LeSean McCoy, quarterback Nick Foles, wideout Jeremy Maclin and guards Evan Mathis and Todd Herremans. Instead, he went with running backs DeMarco Murray and Ryan Mathews, quarterback Sam Bradford and first-round draft pick Nelson Agholor at receiver. This preseason, the only head scratching has come from opposing defensive coordinators trying to figure out how to slow down Kelly's breakneck pace on offense. The Eagles may not be any better than their playoff near-miss in 2014, but they won't be boring.
The Return of A.P. & the Vikings: Running back Adrian Peterson will be back in Minnesota after missing 15 games due to his child-abuse case. A perennial All-Pro and probable Hall of Famer, Peterson and his Vikings teammates could find themselves dealing with lingering questions stemming from the case all season long. Will it affect this talent-laden young team on the rise?
Teams That Could Win the NFC
Green Bay Packers: If you re-watch the first three quarters of last season's NFC Championship Game, you'll remember how close Green Bay came to playing in the Super Bowl. Reigning NFL MVP Aaron Rodgers returns at quarterback for the Packers, but he'll be without his favorite target Jordy Nelson, who's out for the season with a torn ACL. Young receivers Davante Adams and Randall Cobb should prove capable replacements. The Packers' defense is still shaky at times, but it should force plenty of turnovers.
Dallas Cowboys: Cowboys fans will claim they would have beaten the Seahawks in the NFC title game if they hadn't had their divisional playoff game "stolen" from them on a contentious fumble call on receiver Dez Bryant (who's recovering from getting clocked in the face). The defensive and offensive backfields remain a concern, but Dallas returns with one of the best offensive lines in football; a mix of veterans and young stars at the skill positions; and a mission to close the deal in 2015.
Which NFC Contenders Will Fall Short
Detroit Lions: Okay, the Lions haven't ever even been to a Super Bowl, so picking them not to get there is a pretty safe bet. However, Detroit has had the talent to make a deep playoff run during the past few years; it just hasn't materialized. With Ndamukong Suh and Nick Fairley gone from a ferocious defense, the Lions will do well to contend for the postseason.
San Francisco 49ers: Oh, how the mighty have fallen. First-year head coach Jim Tomsula inherits the decaying carcass of Jim Harbaugh's Niners. Darth Khaki never did bring a Lombardi Trophy to the Bay Area, and his successor must try to rebuild with seven defensive starters from 2014 gone and a questionable offensive line. Free agents Torrey Smith and Reggie Bush likely won't help enough.
NFC Rookies to Watch
Jameis Winston, QB, Tampa Bay Buccaneers: Blessed with a personality as big as his talent, former Florida State Seminole Jameis Winston will get his chance to become a true franchise quarterback in Tampa Bay.
Ameer Abdullah, RB, Detroit Lions: An explosive running back from Nebraska, Ameer Abdullah could be the wild card that keeps the Lions offense in the upper echelon of the NFL.
Vic Beasley, DE, Atlanta Falcons: New head coach Dan Quinn may already have found his defensive leader in this pass-rushing, first-round pick from Clemson.
NFC Coach on the Hot Seat
Jay Gruden, Washington Redskins: Poor Jay Gruden. There have to be easier coaching gigs than D.C. No one expects Gruden to turn Washington into a playoff contender, but if neither Kirk Cousins nor Robert Griffin III prove to be NFL-capable quarterbacks in 2015, Gruden might start looking for a window to jump out of instead of waiting to be shown the door.
Playoff Picks
NFC East: Philadelphia
AFC North: Green Bay
NFC South: Atlanta
NFC West: Seattle
NFC Wild Cards: Dallas and Minnesota