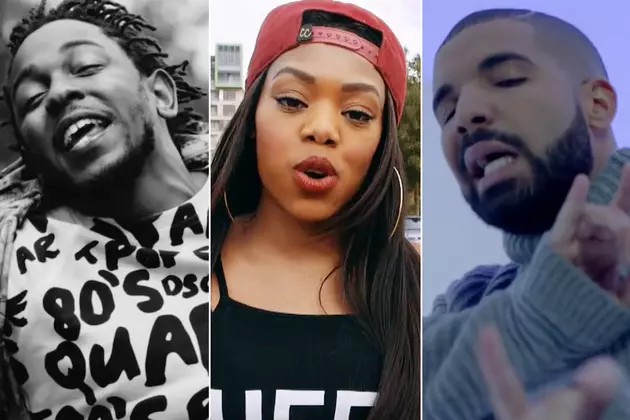 20 Best Hip-Hop Videos of 2015
YouTube
Music videos are one of the more under-appreciated formats for releasing music in the modern age. There's still very much an audience for them on YouTube and other video sharing websites, and some artists can still blow up partially because of a memorable video. However, they're still not quite as pervasive in the music landscape as they were during MTV's peak. Many people will load up a music video on YouTube but just so they can have the music playing in the background while they browse the internet.
That's not to say that music videos still aren't relevant. There are many talented directors working with artists to make great videos for those who want to see them. The internet has made it so that videos can be easily spread and can go viral almost instantly. Music videos are still an excellent way for artists to spread their message and express themselves. Hip-hop especially seems to value the importance of videos in maintaining a public image.
Throughout 2015, there were many music videos that had people buzzing for different reasons. Some videos wowed people with social commentary and storytelling. Others were picked up on social media because of meme-worthy moments within the videos. Finally, some videos get attention simply because of how great they look, where the director's vision perfectly compliments (or even overshadows) the song it accompanies. When making the list of top videos of the year, we kept all of those factors in mind.
Here are the Best 20 Hip-Hop Videos of 2015.
20

"Queen's Speech Ep. 4"

Lady Leshurr

Some people might recognize "Queen's Speech Ep. 4" as the song from the Samsung commercials, but before that it gained popularity on YouTube from a freestyle video released by British rapper Lady Leshurr. The video's style is simplistic with Leshurr rapping through the streets in her neighborhood. But director Wowa keeps things memorable by adding little touches to the clip like text of the verse popping up as she raps or her head being edited with that of whomever she is talking about at the time. There are all sorts of freestyle videos on YouTube, but it takes something humorous and unique (even if it's not groundbreaking) along with memorable bars to break through.

19

"Buffalo"

Tyler, the Creator

Tyler, the Creator's Cherry Bomb album left some fans disappointed due to the more experimental shifts the album took from his previous work, but one's thing for certain: Tyler has not lost his ability as a video director. His visuals for "Buffalo" are immediately striking. The Odd Future leader, painted in all white, escapes his own hanging and runs from an all-black mob. With the racial tensions that have been happening recently, it's interesting to see a provocateur like Tyler visualize some of those themes. The second video included, "Find Your Wings," isn't quite as memorable as "Buffalo", but the '70s show-aesthetic is nicely done.

18

"$ave Dat Money"

Lil Dicky, featuring Fetty Wap and Rich Homie Quan

The mission of Lil Dicky's video for "$ave That Money" is simple: Make the most epic rap video in history, without spending a single dollar on it. The theme goes with the track's comedic rhymes about frugality, and it's amazing what was accomplished with the nonexistent budget. The opulent houses, nice cars and boats weren't bought or rented, simply borrowed for free. The actors were volunteers or blurred out of the videos. It just goes to show that determination can outweigh money when trying to make a brilliant rap video.

17

Vince Staples' "Senorita" was already an incredible song, but its video takes it above and beyond. Vince walks around a suburban landscape, as does a tatted-up man holding up a book as others follow. One-by-one, the people in this scene get shot down and killed, and at the end of the black-and-white video, it's revealed that these painful happenings are being enjoyed as art in a museum by a family. Ian Pons Jewell's direction is just perfect in the reveal of this twist.

16

The almost constant controversy that Azealia Banks gets into often overshadows the fact that she's a fairly brilliant artist. Her music is great, and she can often back it up with a great video. For "Wallace," she's outdone all her past efforts. The video, available here, is interactive and uses computers' webcams to allow users to control the movements of the video. It makes the viewing experience unique for everybody who watches. Music videos have been around for decades, but people are still finding ways to innovate them, much like Banks' "Wallace" video.

15

Travi$ Scott is all about flash and aesthetic, and that might not come across better anywhere else than his video for "Antidote." The video is beautifully shot in a carnival scene and features Scott with cars in dust, girls in cages and people with glowing faces. It's largely spectacle and doesn't accomplish much aside from looking cool, but sometimes all a video needs to do is make the artist look cool, even if nothing else makes any sense.

14

"Throw Sum Mo"

Rae Sremmurd featuring Nicki Minaj and Young Thug

Slim Jimmy and Swae Lee might be new to the rap game but that doesn't mean Rae Sremmurd aren't pros at partying. The "Throw Sum Mo" video is a brightly-colored scene of the young duo throwing cash around a roller-skate-themed strip club with some of their famous friends (including Nicki Minaj, Young Thug, Birdman and more). The shots from Motion Family and Michael Illiams make it look like a party for the ages. It's an insanely fun video from two of hip-hop's best at making fun turn-up music.

13

"Detroit vs. Everybody"

Eminem featuring Royce da 5'9", Big Sean, Danny Brown, Dej Loaf and Trick-Trick

Detroit gets a bad reputation. Many view it as an urban wasteland and an afterthought compared to other major U.S. cities. There's always been an underdog status around the city. Eminem is one of the city's favorite sons, and he's not going to let those thoughts prevail. Not only does he gather a murderer's row of Detroit's best rappers, present and future, he backs it up with beautiful views of the city and the everyday people that inhabit it. Many of the scenes showcased are worn and abandoned, but Syndrome's camera gives them a beautiful perspective. Detroit might not be beautiful to everybody, but it's dear to many others, warts and all.

12

Hopsin might be known for his songs and videos about serious subject matter (his "Ill Mind of Hopsin" series has tackled heavy material like drug addiction and religion), but his best video yet allows the rapper to be his goofy self. The video is a parody of much of what's stereotypically popular in mainstream rap. Hopsin's voice is drowned out in Auto-Tune and indecipherable, while he and George Orozco emulate the look of a big-budget mainstream rap video, from the cars and cash to the girls and the styrofoam cups. The video lasts less than two minutes, which allows the point to be made without the joke growing old too quickly.

11

"Downtown"

Macklemore & Ryan Lewis featuring Eric Nally, Melle Mel, Kool Moe Dee and Grandmaster Caz

"Downtown" is a loving tribute from Macklemore to the early days of hip-hop featuring some of the first and most influential emcees to ever touch the mic. So naturally the accompanying video is just as much a tribute to those days. There's people and their crews strutting down the street, b-boying and covering the walls with graffiti. The moped parade that ends the video isn't quite as vintage hip-hop, but meshes the goofiness of Macklemore's previous "Thrift Shop" video with the early-80s aesthetic well.

10

Hiro Murai has been one of the best music video directors of the past few years because of his stylistic, unique videos, including a streak of great visuals provided for Childish Gambino. The "Sober" video doesn't have the monster-movie twist of "Telegraph Ave." or anything out-there like that. It's a simple story of a somewhat-creepy, messy guy (played by Gambino) trying to get the attention of a girl at a take-out restaurant. The girl is pretty unimpressed, but Gambino's singing and elaborate dancing get her to smile eventually and even start dancing herself. It's a great video that allows him to showcase his ability with dancing, comedy and facial expression, and shows that he's one of the most multi-talented rappers out there now.

9

"See You Again"

Wiz Khalifa featuring Charlie Puth

Music videos for songs on movie soundtracks are pretty standard. Scenes from the film are interspersed between shots of the artist performing at sites that look like they're from the movie. That's exactly what happens in the video for Wiz Khalifa's Fast and Furious 6 theme "See You Again," but in this video there's a certain emotional resonance not in the average soundtrack video. That's because the video, like the song itself, is a tribute to the late Paul Walker, and the focus is on Walker's performances through the years. This culminates with Walker and Vin Diesel's characters from the movie going their separate ways, and the video is dedicated to Paul at the end. The clip's style has been done for years at this point, but the emotional core makes it a tear-jerker.

8

"L$D (LOVE x $EX x DREAMS)"

A$AP Rocky

A$AP Rocky's style on At. Long. Last. A$AP shifted towards more psychedelic territory, and the music video for "L$D" was many listeners' first introduction to the shift. Dexter Navy and Rocky himself direct a wavy, trippy video that feels like a dream as the hazy track plays over it. You might find yourself lost in the visuals as cityscapes melt away around Rocky.

7

"One Man Can Change the World"

Big Sean featuring Kanye West and John Legend

The Andrew Hines-directed video for Big Sean's "One Man Can Change the World" can give you shivers. The black-and-white video sees Big Sean at a funeral, carrying a casket and giving a eulogy. Meanwhile, a young kid sees gun violence and police in riot gear on the streets that cause funerals like this to happen in the first place. It's a harsh reality, but the song's hopeful tone gives the feeling that it can all be risen above. The beautiful video won the MTV Video Music Award for Best Video with a Social Message, even beating out Kendrick Lamar's "Alright" visual.

6

Videos dealing with racism and tensions were a recurring theme in hip-hop over the course of the year. "G.O.M.D." is yet another of the wonderfully shot videos of the year dealing with these issues. In the Lawrence Lamont-directed clip, J. Cole portrays a house slave on a white plantation who ends up leading an uprising against the owner. He unifies with the field slaves and one of the white women at the home. Even though it's a period piece from the era of slavery, there are definite parallels with modern society seen in the video.

5

"Where Ya At"

Future featuring Drake

"Where Ya At" is a culmination of two of the year's top rappers, Future and Drake, looking like absolute stars. Future is balling out on a rooftop somewhere. Drake is wandering through a warehouse for some reason. Later, both rappers host a fancy Freebandz dinner party where they drink wine and light their cigars on candles. Two dope rappers just doing dope stuff. Let's be honest, though. The reason "Where Ya At" is one of the best music videos is because of DJ Esco and Metro Boomin. Their appearances in the video, especially while they're dancing with Future on the rooftop, outshine anything done by the stars of the show.

4

"Only One"

Kanye West featuring Paul McCartney

Kanye West is a superstar rapper, and everything he does seems like a major event. Spike Jonze is an acclaimed director of feature films and music videos. When the two combine, they can produce some epic videos (as seen with "Flashing Lights" and "Otis"). That's not the case with "Only One." Instead, the video is presented as a home video of West and his daughter North at a road and in a field. It incorporates both the song and live audio from the location. This heartfelt, personal song is accompanied by a visual equally as intimate, and serves much better than any flash the two artists could provide.

3

Aubrey "Drake" Graham is a rapper, a singer, a trendsetter, among other descriptors. His success and influence are nearly-unmatched by any other rappers working right now. He makes hits from songs he randomly posts on his Soundcloud page. Even with all that success, he is still a massive goof. Before the swagger and the chart success, he was Wheelchair Jimmy on Degrassi. Drake's self-aware, and while he can exaggerate his toughness in his music, he knows that in the end he's not a traditional rapper and embraces it. "Hotline Bling" is that. The clip is relatively minimalistic. There are a few moments of girls dancing, but the main subject is Drake, dancing around a room like he's Jamiroquai in the "Virtual Insanity" video, but without much of the skills. The video was immediately meme-worthy and kept Drake at the forefront of conversation months after his album dropped.

2

"Feeling Myself"

Nicki Minaj featuring Beyonce

Tidal never seemed to pick up as the next great streaming platform like Jay Z and other artists wanted, but it did have some highlights throughout the year. One such highlight was the epic "Feeling Myself" video from Nicki Minaj and Beyonce that was made exclusive to the platform. These two women are a couple of the most important figures in all of music right now, and the video asserts their queen status. These two are so dominant that they can make anything look awesome. Eating burgers next to a bounce house? Yes. Just chilling in a kiddie pool? That looks great too. Queen Barbz and Queen Bey could probably film a video of them doing their taxes and it would look like the best place to be.

1

There's so much that happens in Kendrick Lamar's 7-minute-long video for "Alright" and all of it seems essential. Police throwing black men down and arresting them. Riots in the street. Lamar and Black Hippy in a car carried by cops. Cash flying through cars. Kendrick flying through the sky or rapping in front of crowds before he stands on the lamppost and is shot down. Powerful imagery from one of the most essential voices in music. The video is a phenomenal artistic achievement from a rapper who had a ridiculous amount of quality art released throughout the course of the year. If K.Dot is seen down the road as one of hip-hop's most important figures from this era, it will be because of art that relates to the times as perfectly and beautifully as the "Alright" video and To Pimp a Butterfly's release.