Manny Machado Is the Coolest Baseball Player UOENO
Manny Machado plays third base for the Baltimore Orioles. And he is the tits. He is 22 years old, already has a Gold Glove and an All-Star appearance under his belt. Not to mention that he's the best player on the Orioles, who are leading the AL East. You know, the division with the Yankees and Red Sox.
Also, he's been doing some crazy shit this week. On Tuesday night, he hit a walk-off homer in the bottom of the 12th inning to help Baltimore beat the Angels, 7-6.
The very next night, Machado made an even more impressive play in the field. How about this play at the hot corner, robbing future Hall of Famer Albert Pujols with an absurd backhand and throw from foul territory: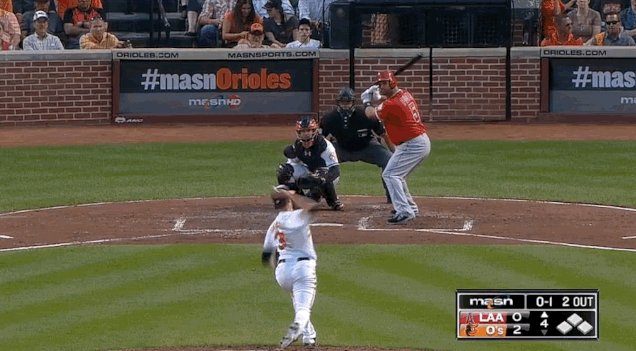 That's the kind of once-in-a-season, okay-he-got-lucky kinda play, right? Actually, no. Machado does this type of shit every night, and he is now haunting Pujols' dreams every single time he closes his eyes. Why? He did the EXACT SAME THING to Pujols in the third and final game of the Angels-O's series. This time, in fact, he took his sweet time, even deeper in foul territory, and fired a rocket to beat Pujols at first — and he was still out by a mile. And this was in the top of the 11th inning in a scoreless tie! WTF! Look at this craziness:
If you're not on the Manny Machado wave, you need to file your bandwagon application now, because by the time October rolls around, there won't be any room left. Seriously, dude is like Cal Ripken plus Brooks Robinson on swag-roids. And he's not even playing his natural position (shortstop). Hakuna Machado.
[via MLB]